How do I use The God Particle?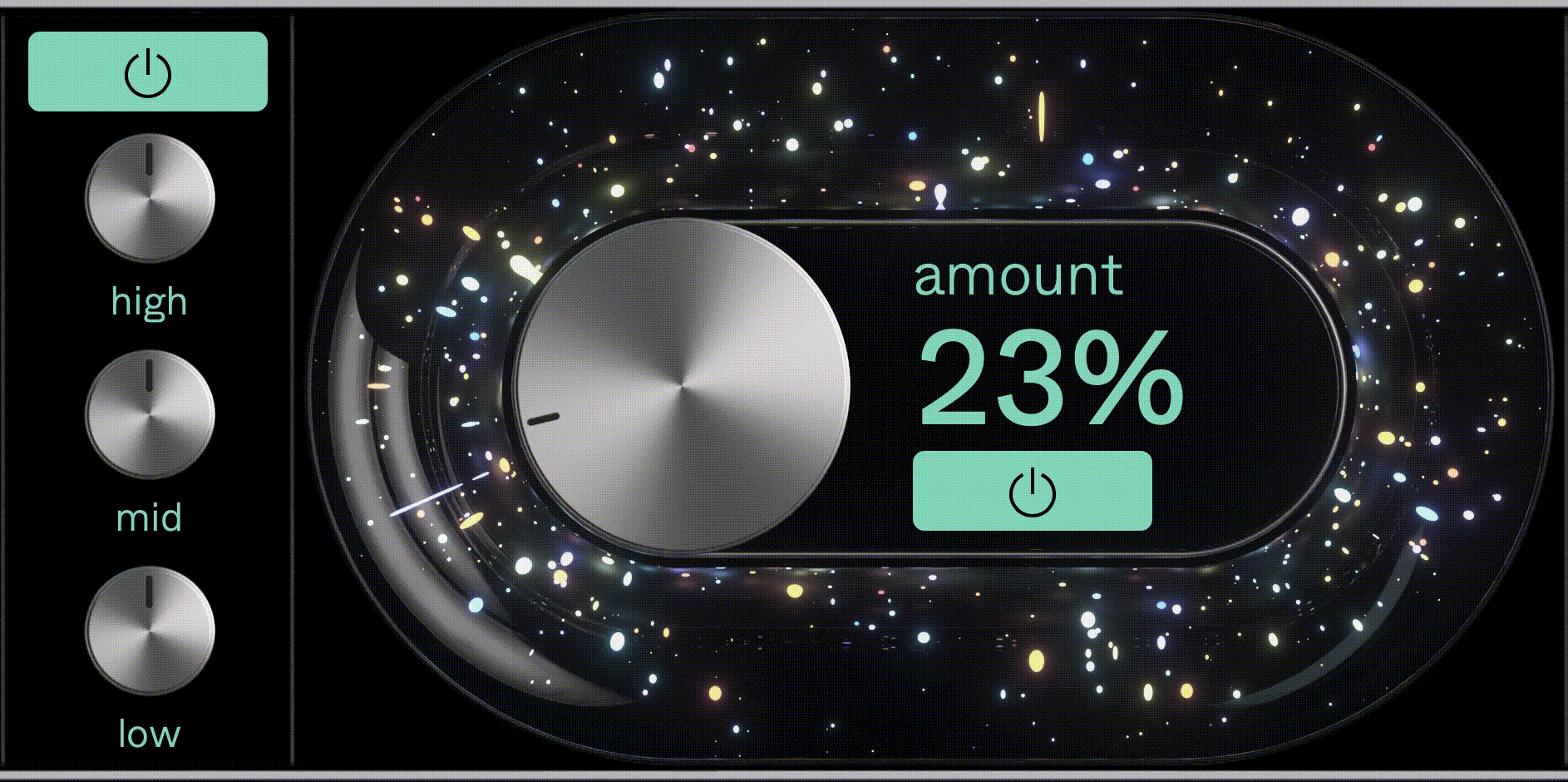 The God Particle is the only plug-in on Jaycen Joshua's master channel.
Inspired by the vast range of hardware, plug-ins and processes Jaycen has used throughout his career, The God Particle distills this complex, multi-faceted approach into one intuitive plug-in.
As it's a combination of various powerful components, its magic can be applied in different ways and in different scenarios.
Master Channel
This is where The God Particle was born, and where its powers shine brightest.
Applying The God Particle on your master channel will give you a punchier, brighter and louder mix, that retains balance and dynamics across the full frequency spectrum.
The various green targets on the input and gain reduction meters indicate where Jaycen likes to have the input level of his mix landing, and are most relevant when used in this master channel context. Use these targets as a visual reference point or mixing aid, to check that your mixes are hitting in the same way that Jaycen's do.
For those looking for Jaycen's signature settings, it comes pre-loaded with the exact settings he uses on every mix. In fact, Jaycen doesn't change any of these settings and makes all of his adjustments before the signal hits the input strip of The God Particle.
How you use it, of course, is up to you. Here's some more ways you can implement it:
DIY Mastering/Release-ready exporting
Maybe you want to drop an impromptu track on stores, or just like to maintain full creative control of your sound from start to finish?
Use The God Particle on your master output to get industry-grade volume without distortion, and without crushing your dynamic range through overcompression.
Busses and Groups
The God Particle can be used to enhance virtually any grouped or bussed signals, too. Add some extra punch and presence to your drums, or use it to seamlessly gel and boost your synth section.
The green targets on the gain reduction strip are less relevant here, since you'll generally be using grouped instruments or sounds which likely won't have the same frequency range and sonic properties as a full track.
Use your ears here to set the parameters, and get the bus sitting sweetly in your mix.
Individual elements
The possibilities are open-ended here, and a bit of experimentation is key.
We've found that The God Particle works well on prominent features like lead vocals or guitars, but can be equally effective in toughening up your snare drum.
Use it to make an instrument cut through a busy mix, or to solidify individual elements in more minimal or sparse compositions.
A final thought:
For all its galactic powers and mystical inner workings, The God Particle can often be best used as a visual mixing aid, as well as an all-in-one mix bus solution.
What worked for Jaycen on Despacito might not work as well on your pastoral folk track.
Powerful dynamic processing tools are often most effective when used delicately - use your eyes when engaging with the green targets, but trust your ears too.