We can confirm that as of the fall 2022 updates, Cradle Hub and all Cradle products can now run natively on Mac machines with Apple Silicon ARM chips (M1 & M2 processors). Ensuring that your DAW itself can also run natively on Apple Silicon, you should now be able to run your Cradle products natively without requiring Rosetta. You'll need to ensure you've installed the latest version of your Cradle product(s) before proceeding.
How do I make sure my DAW is running natively?
Firstly, make sure you've installed the latest available product updates from Cradle Hub. Then head to your Applications folder, right-click your DAW application and select 'Get Info'. Here, make sure that 'Open using Rosetta' is unchecked, as seen below.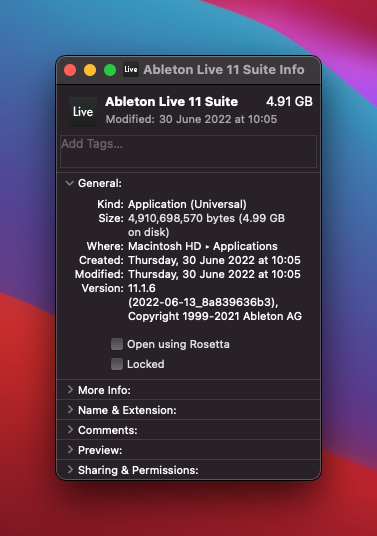 The next time you launch your DAW, it'll now be running natively on Apple Silicon, as long as a native version is installed. Only DAW versions with native support will display the 'Open using Rosetta' option in this window; if you're not sure if your DAW can run natively, see below.
Which DAW version do I need?
Make sure you're running a version of your DAW that features native Apple Silicon support. The supported DAW versions that introduce native Apple Silicon support are as follows, as well as links to supporting articles/information about how to run the DAW natively:
Please see below for more info on current known issues with supported DAWs and Apple Silicon.


Ableton Live AU automation
During internal testing we discovered an issue affecting AU automation of The Prince/The God Particle in Ableton Live. Projects previously saved with Ableton Live not running through Rosetta on Apple Silicon machines (i.e. the 'Open using Rosetta' option in the Ableton Live application info window was not checked) may not recall automation parameters correctly after updating.
So long as you have been running Ableton Live through Rosetta until now when saving projects with The Prince v1.0.3.1 AU or The God particle v1.0.2.0 AU, you should not encounter this issue with the new Apple Silicon product updates.
However, we strongly encourage you to back up your Ableton Live projects before updating to the new versions of The Prince or The God Particle.
This issue is caused by inconsistent handling of automation parameters when Ableton Live runs older Intel AU plug-ins on Apple Silicon, and appears to be out of our control.
In this situation, certain automation parameters are not recognised by Ableton Live. Recalled automation will assume a grayed-out/disabled state, where the cursor will display a no-entry (?) symbol on mouse-over of the automation lane. If this occurs, you will be prevented from modifying or copying the automation, as the parameter is now no longer recognized by Ableton Live.


If you have any questions or concerns, please get in touch with our support team.


Cubase 12 'Info' window workaround
To ensure Cubase is running natively, you'll need to follow their instructions to work around a known issue that can cause Cubase to incorrectly continue to run through Rosetta.
Tick the "Open using Rosetta" option (check it)

Close the Info window

Open the Info window again

Tick the "Open using Rosetta" option (uncheck it)